Mackply Warranty
Limited Warranty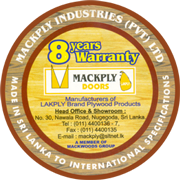 Mackply products are made in accordance to acceptable standards prevail in the plywood industry and subject to continuous improvement.
The plywood doors are made out of chemically treated natural timber and bonded both sides with high quality ordinary and decorative plywood sheets by using special glue used in the industry.
Natural timber is generally subject to deformation due to variation in humidity and temperature. We ensure that the timber is chemically treated and season kilned prior to manufacture to ensure that a durable product is produced.
Warranty - Terms and Conditions

1. Natural variation in the color, texture or grain pattern of the wood or adopted knots, is not to be considered defects.
2. Our products must not be exposed to extremely adverse weather conditions.
3. Our products when sold unpolished form same must be applied with sealer, paint or varnish to prevent absorption of moisture, of fungal formation and pest attack, within two weeks time.
4. An experienced carpenter must be employed to fix our products. Only sharp tools must be used for cuttings.
5. Always keep our doors and sheets laid flat by using timber or steel sections underneath.
Mackply industries (Pvt) Ltd will not hold responsibility for any item, which becomes defective because of failure to follow above and other unaccepted norms in carpentry and joinery industry after the item leave the control of our company.