History of Mackwoods

Capt. William M. Mackwood - First Chairman

Mr. N.S.O. Mendis - First Sri Lankan Chairman

Mrs. Sriyani Nonis - First Female Chairperson
Mackwoods Limited which celebrates its 165th Anniversary this year, has the distinction of being the second oldest Mercantile Firm in Sri Lanka. After its establishment by British Ship's Captain William Mackwood in 1841, it steered a passage towards survival, profitability and growth, weathering the severe storms and many vicissitudes that came its way – such as the Coffee Blight, the Great Depression of the 1930s and two World Wars, and serves as an unique example of resilience and skill in the Mercantile history of Sri Lanka. More so, was the smooth transfer of the Firm from British to Sri Lankan hands after over a century of unbroken proprietorship by the Mackwoods Family with not a ripple to mar its course. It was a worthy tribute to the foresight, business acumen and skill of both William Mackwood, and the man who acquired the Company – the prominent Sri Lankan lawyer and businessman – N.S.O Mendis, the first Sri Lankan to acquire a British establishment. He was a visionary entrepreneur who recognized the value of Mackwoods as a vehicle for positioning Sri Lanka on the world map through its diverse business activities as well as to carry out his vision of building sound business financial models based on fiscal prudence and a focused diversification strategy, combined with a strong element of social philanthropy and caring for the community.

Mr. F.E.Mackwood

Mr. F.Mackwood

Mr. F.M.Mackwood
Today, Mackwoods is a Conglomerate of several companies engaged in essential sectors of the Sri Lankan economy; namely – Agribusiness and Plantations (Tea, Rubber and Oil Palm), Healthcare (Pharmaceuticals and Medical Equipment); Science & Technology; Information Technology Education, and Software Development; Imports and Value Added Exports; Energy Sector; Leisure Sector; Manufacturing Sector; and Financial Services (Insurance, Asset Management & Stockbroking). Mackwoods provides employment to approximately 8,500 individuals, and owns & manages 27,000 acres. The reputation for quality, which Mackwoods has grown to enjoy, is built upon the foundation of sincere effort, resilience, intelligent direction and skilful execution, facets of the vision of the late Mrs. Sriyani Nonis, the late Chairperson of the Mackwoods Group of Companies, who successfully led Mackwoods for a period of over 40 years and expanded its diverse business portfolio. Mackwoods epitomizes a unique story of success; not merely of survival, but of positive growth spanning the 19th, 20th and 21st centuries.
N.S.O. Mendis
The First Sri Lankan Chairman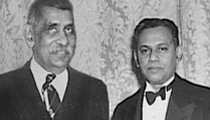 Mr.Mendis with H.E. D.S.Senanayake first Prime Minister of Sri Lanka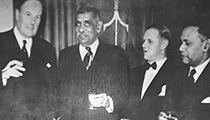 Rt. Hon. Lord Brabazan of Tara H.E. D.S Senanayake First Prime Minister of Sri Lanka, Mr. J.J. Denny and N.S.O Mendis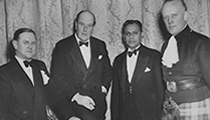 Mr. J.J. Denny, Rt. Hon. Lord Brabazan of Tara,Mr.N.S.O.Mendis, Rt. Hon. Lord Sempill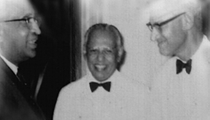 Mr.Mendis with H.E. President of Sri Lanka and Mr. J.A. Leembruggen
The Mackwoods story would not be completed without a reference to Mr N.S.O.Mendis, who was, perhaps the first Sri Lankan to buy a British Company. A leading lawyer, Mr Mendis was initially Professional Assistant at 'Julius & Creasy' when he decided to strike out on his own in 1936. His employers were sorry to lose him and asked where he planned to hang his shingle. "Next door" was the reply. Later, he, with his brother-in-law, Felix de Silva, founded the Firm of De Silva and Mendis, which was soon to acquire a sound reputation for its legal work. Few people other than his intimates remember today that N.S.O. Mendis had a military career in the Ceylon Garrison Artillery where he served as a volunteer. He was the youngest Ceylonese Major in that unit at that time. In the pre-independence years when the British interests in the "Times of Ceylon" were acquired by Ceylonese, Mr Mendis who had administered the Sangarapillai Trust, became the Chairman of the "Times of Ceylon". He was also responsible for beginning the 'Daily Mirror'. In the late fifties he acquired Mackwoods and Lewis Browns, all British held, where he served as Chairman.
A man of tremendous vision and foresight, one could go on listing his many achievements and 'firsts' in the field of business. Reproduced below are extracts of an article by Lionel Fernando which appeared in the Ceylon Daily News on his demise. This gives a valuable insight into his eventful career.
"Somewhere in the late fifties or early 1960 there was a headline in the 'Financial Times' in England, reading " Asian buys Sterling company". The story referred to Mr. N.S.O.Mendis, the Colombo lawyer and businessman, who was perhaps the first Ceylonese to make a take-over bid for a British based Sterling Plantation Company with property here. The bid resulted in the acquisition of the entirety of the shares in the Alliance Tea Company of Ceylon Ltd., Imperial Tea Estate Ltd., and the Carolina Tea Company of Ceylon Ltd., by indigenous interest. Mr. Mendis considered in knowledgeable circles to be one of the country's finest business brains, along with his legal acumen, showed the way of Ceylonising painlessly, the largely British held Plantation Sector in this country. Many years later, the Government of Malaysia did what N.S.O. Mendis had done over a decade earlier".
During the later stages of a remarkable career, he acquired a controlling interest in Delmage Forsyth & Co., and Mackinnon Mackenzie & Co., which he subsequently divested.
Mr Mendis took a very keen interest in sport, especially cricket, which he helped promote at national level.
The secret behind his success is perhaps best revealed through the personal experiences recounted by some of those who were closely associated with him - Mr J.A. Leembruggen former Chairman of Mackwoods refers to two of his personal qualities which always impressed him - he says "firstly he had a marvelous brain. He was a very good judge of character and was generally able to forecast how people would act in any given circumstances. The result of his shrewdness which possibly was made more acute by his legal training, was that he was always one jump ahead of everyone else. The second personal quality was his positive reaction to any kind of misfortune or adverse decision".
Former Managing Director of Mackwoods Estates & Agencies, C.S.Illangakoon, in a personal account of N.S.O.Mendis, describes him thus - "The man strode the contemporary scene so like a giant in each of his activities, that it is only a researcher or biographer that will be able to do justice to his life's achievements". Of his qualities as a businessman and entrepreneur he says " he always looked and got the highest standards of efficiency and conduct". In another place he says "Finance-wise he was a wizard; always a winner. His magnanimity and sense of fellowship combined to make him a very human being. His concern for the underdog and the less privileged was ever evident".
Rising from comparatively small beginnings, N.S.O. Mendis rose to a leading position in the business world. His idea was not to amass wealth but to run the business efficiently. Success in business was not his sole objective. A remarkably kindly and simple man with a great love for his family and concern for others, his charity and philanthrophy has been legion. N.S.O. Mendis never talked about the people he had helped with money and advice. Throughout his life he assisted wherever he could. A few years before his death he founded the Mendis-Mackwood Charity Fund to help the needy and for the advancement of learning. He said "setting up the Charity Fund has given me my greatest satisfaction". The Fund remains a lasting reminder of him.
Mrs. Sriyani Nonis
First Femail Chairperson
The reputation for quality, which Mackwoods has grown to enjoy, is built upon the foundation of sincere effort, resilience, intelligent direction and skilful execution facets of the vision of the late Mrs. Sriyani Nonis, Chairperson of Mackwoods Group of Companies, who successfully led Mackwoods over a period of 40 years, having been actively involved in the business for many years prior to that. A Barrister-at-Law by profession, she brought with her, a wealth of management experience in diverse areas including shipping, the hospitality trade, travel, healthcare, plantations, education and information technology.

Mrs. Sriyani Nonis with Ms. Shelly Nonis

Mrs. Nonis giving Scholarships for University to Plantation workers' Children

Mrs. S.Nonis with Mr. Vvyan Harmsworth, Chairman, Daily Mail Holdings, UK
Under her stewardship, Mackwoods investments is human capital and community, process engineering and modernization, environmental and diversification initiatives, have been rewarded through international and local benchmarks of quality and excellence, whilst always maintaining her deep caring for the community.

Mrs. Nonis at the opening of the Paklan Latex factory

Mrs. Nonis with Sir Micheal McWilliam, KCMG at the Mackwoods Tea Tasting & Opera Event, London

Mrs.S.Nonis with the children from St.Josephs School for the Hearing Impaired, Kuliyapitiya.
Click here to read the Tributes