Plywood Sheets
Lakply Plywood Sheets From Mackply
Plywood is one of the most important and versatile timber products. It is used to construct everything from fine furniture to shuttering and sub-floors. It has increased efficiency in the construction industry and is both stronger and cheaper than solid wood. Plywood shows more resistance to shrinking, twisting, warping and cracking. These sheets are produced in various thicknesses and a wide variety of finishes and timber species.
Is this your present criteria / way of ordering plywood sheets?

Do you know there are many other factors you should consider, when placing an order with your plywood supplier.
01. Size & Thickness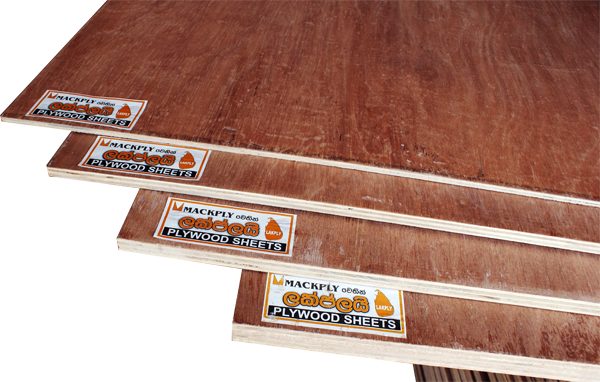 Internationally accepted size is 8'x4' (2,440mm x 1,220mm) with permissible allowance of + 3mm.
Thickness up to 5mm the permissible allowance is + 5% and above 5mm the allowable tolerance is + 10%
02. Surface Appearance
(Depending on customer requirement)
Type 'A'

- Natural surface remaining visible

Type 'B'

- Natural surface which may remain visible

Type 'C'

- Naturel surface generally intend to be unseen, painted or coated

Type 'D'

- Surface with no requirement of appearance
The face and back of the plywood can be a combination of different types or at same type.
Example - AA, AC, BC
03. Adhesive / Glue
Depending on the application of plywood sheets there are different type of Adhesives/Glues used for bonding the veneers or plies.
MR Grade

- Urea Formaldehyde Resin with suitable hardeners

BWP/WBP Grade

- Phenol Formaldehyde Resin with suitable hardeners

MF Grade

- Melamine Formaldehyde with hardeners
Above information is vital when ordering plywood sheets as it is directly related to the application.
Example - MR Sheets are mainly used for interior purposes, whilst BWM/WBP is used for exterior purposes such as concrete from work/marine applications.
04. Category of Timber
The timber used for internal structure to make plies are two classes namely Class ll (Rubber wood, Thiniya) which are of medium density and Class lll (Elbesia, Poplar(Chinese) which are of low density.
05.Class of Durability
There are two durability classes namely,
Class 'D'

- Durable plywood treated for long time usage (chemicals mainly used are Boric Acid and Borax Powder.)

Class 'L'

- Less durable plywood meant for temporary usage.
Considering the above factors, the correct way to order Plywood Sheets

Selection chart for Plywood Sheets